Mindful Eating Online Course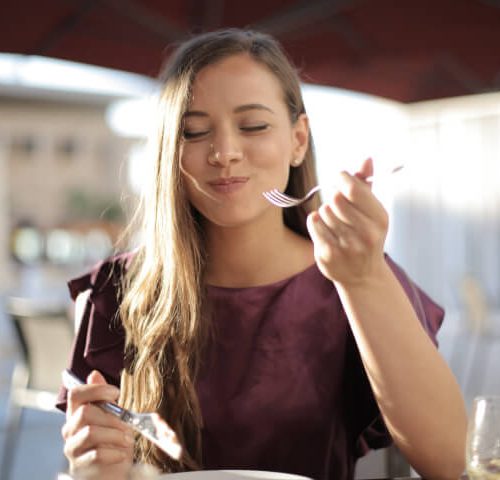 This 7-week Mindful Eating LIVE online training will allow you to develop a healthier relationship with food. You will learn about conscious eating and how to practice this. This MB-EAT based Mindful Eating course will also provide insights into your relationship and responses to food as well as strategies on how to explore and deal with challenges. On this page you will find all the ins- and outs of the course, including dates and prices.
Group Sessions Are Paused
This course is available as a one-to-one 7-week Programme - follow link below
Book your place
€200.00
Why Mindful Eating?
So why should you spend 7 sessions exploring Mindful Eating? And what will you get out of it?
Research has found that "how" you eat can have a more positive and lasting effect on your health than "what" you eat. Mindful Eating is a practice that allows you to revolutionise your relationship with food. Cultivating awareness of your present moment experience you can increase your enjoyment of food, enhance taste satisfaction and learn to tune into your body cues related to eating such as hunger, stomach fullness and body satiety.
The benefits of mindful eating include:
Developing a healthier relationship with food through non-judgmental awareness
Increased awareness of body cues relating to hunger and satiety
More enjoyment of food through your mindful presence
Guilt free eating – ability to enjoy the foods you love
More awareness of thoughts and emotions relating to food
Recognising the difference between physical and emotional hunger
Awareness of cues that lead you to over- or under-eat
Understanding cravings and how to manage them mindfully
Helps shift from being controlled by food to being at ease with food choices and with eating
Who can benefit from Mindful Eating?
This course is for you if you:
Want to improve your relationship with food
No longer wish to feel guilty about food
Have trouble with overeating or undereating
Have challenges with certain foods
Are interested in changing your habits around food
Want a more relaxed relationship with food
Want to stop the inner-critic around food
Want to become more aware of stress or emotional eating
If you are currently experiencing an active eating disorder (such as bulimia or anorexia), this course is not recommended for you.  Feel free to email me if you have any questions about whether this course is suitable for you.
Group Sessions Are Paused
This course is available as a one-to-one 7-week Programme - follow link below
Book your place
€200.00
Mindful Eating course format
The Mindful Eating training has been developed for easy live online access. The course is available alongside our other Mindfulness courses and is facilitated by very experienced Mindfulness trainers.
As well as live online practical sessions you will receive lots of support material to guide you through this Mindful Eating course. The fee for the training includes:
6 x 90-minute interactive, experiential and practical classes held LIVE ONLINE via Zoom
1 x 90 minute follow-up session, after 1-month
Small, intimate class sizes (up to 8 participants)
Guided meditation recordings (including mindful eating meditations) and exercises for home practice
Exclusive weekly course workbooks and notes to support home practice
Mindful Eating Journaling between sessions – to support your journey
Access to all course materials through our learning platform (lifetime access)
FREE EXTRA: 30-day Self-compassion Email Course
Dates & time of next course
Group sessions are paused
As I work with many clients across many time zones – group courses were not getting enough numbers to go ahead.  So that is why I only offer this programme as a one-to-one coaching programme at this time.  Sorry for any disappointment.  Find out more on our Private Mindful Eating Coaching page.
What if I can't make a class?
If you are unable to attend a date it is still possible to join the course.  You will receive a weekly course workbook with information about the themes covered in the session as well as access to guided meditation and eating practices in the learning portal.
This course is also available as a private 1-1 programme.  Find out more on our Private Mindful Eating Coaching page.
Week 1
Make Peace with Food
In session 1 we experience what mindful eating is and set the foundation of the mindfulness practice for the course. We explore how to make peace with food.
Week 2
Honour Your Hunger
This week we become re-connected with the sensations of physical hunger; we learn how to honour our hunger. We also explore "attunement disruptors" that get in our way of honouring our hunger.
Week 3
Becoming a Conscious Connoisseur
In this session we explore reasons we eat other than physical hunger as well as emotional hunger. We also revel in the experience of taste satisfaction.
Week 4
Feel Your Fullness
We start to tune in with the physical sensations of stomach fullness and body satiety and how to honour these. We also explore alternative ways to deal with stress and build an arsenal of strategies for self-care.
Week 5
Stress Eating & Cravings
This session explores the chain reaction of events that can lead us to over- or under-eat. We also learn how to "surf the urge" when it comes to cravings.
Week 6
Outer Wisdom & Gentle Nutrition
Today we will combine all the inner wisdom we have cultivated so far in the course with outer wisdom and gentle nutrition.
Week 7
Follow-up Session: Mindful Eating for Life
Looking at how we can sustain mindful eating for life and developing your personalised mindful eating support plan for the future.
You will learn
During this 7-week MB-EAT based Mindful Eating course you will learn how to bring your full attention to your eating experience. You will do this by tuning into your senses and your body sensations and body cues. We will be delving into the physical aspects of eating, including body cues such as hunger, cravings and satiety (ie feelings of fullness). We will be bringing the qualities of mindful awareness to our mindful eating experience such as curiosity, kindness, acceptance and non-judgement. Through our mindful awareness we will be gaining insights into our thoughts and emotions relating to food and cultivating non-judgemental awareness of responses to food. Self-compassion and mindful self-talk and motivation will support us through our journey.
This course is also available as a private 1-1 programme.  Find out more on our Private Mindful Eating Coaching page.
Group Sessions Are Paused
This course is available as a one-to-one 7-week Programme - follow link below
Book your place
€200.00
Your trainer for this course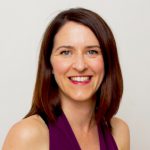 Bernadette Keogh, Qualified MB-EAT Instructor & Nutrition Coach
Bernadette Keogh is a mindfulness trainer and nutritional coach. This course brings together her two passions. A mindfulness practitioner for over 25 years, Bernadette started teaching mindfulness in 2014.  She has studied MBSR (Mindfulness Based Stress Reduction) with Bangor University, is a Qualified MB-EAT (Mindful Eating) Instructor, a Registered Nutritional Therapist and a member of the British Association for Nutrition & Lifestyle Medicine (BANT).
Testimonials
"This course has been life changing for me and I think that anybody would benefit from taking part in this course. If only just to learn to reconnect with your body better, learn to slow down and enjoy the eating experience more."
Claire, London UK
"Bernadette is super knowledgeable and experienced in mindfulness, nutrition, and healing relationships with food, and is a great educator and course facilitator. Her passion for her work is evident in her attitude, effort and the way she leads the course. She is great at explaining concepts, leading meditations, and facilitating group feedback and participation, making it an overall amazing experience for participants.
It was my first time ever learning about mindfulness with eating and food, and I can see small differences that are building on each other in my eating, choices, and attitude towards eating and food. My biggest take away I think was changing my labels on food from "good" and "bad" food, to "whole/nourishing" and "play" food."
Carrie, USA
"Bernadette's warmth and enthusiasm is refreshing, and her skill as a mindfulness teacher remarkable. Working with her regularly would be life-changing for many people." Cleve, South Africa – Participant of Mindful Eating Program (Group Sessions)
Cleve, South Africa
"I loved the way you delivered your lessons..you have such a calm manner and are super knowledgeable. The content was fab and very accessible…I look forward to further implementing the principles you taught us." Sandra, Den Haag NL – Participant of Mindful Eating Program (Group Sessions)
Sandra, The Hague NL
Bernadette's use of terminology when discussing foods diverts the focus away from good and bad and allows for personal choice to enhance the understanding of each food and why we want it. Her passion for this area is infectious and the weekly practices allow me to develop personally. I thoroughly enjoyed the meditation sessions and I learnt so much from this programme. This course is perfect for anyone who wants to understand their eating behaviour and learn to appreciate food even more! Thank you so much Bernadette.  Participant The Mindful Eating Program (Group Sessions)
Róisín, Northern Ireland
"The course was very informative and taught me a great deal about my own eating habits. How to try not to feel that innate sense of guilt around food. How to be mindful of myself in every way."
Aileen, London UK
"I thoroughly enjoyed the Mindful Eating Course and it quickly became the favourite part of my week! Bernadette has excellent subject knowledge and delivers this in an easily understandable and interactive way. Her calm and reassuring manner guide you wonderfully through the meditations leaving you feeling both relaxed and energised! The programme has helped me to eat consciously rather than automatically and to bring my focus onto the physical nature of eating."
Zena, London UK