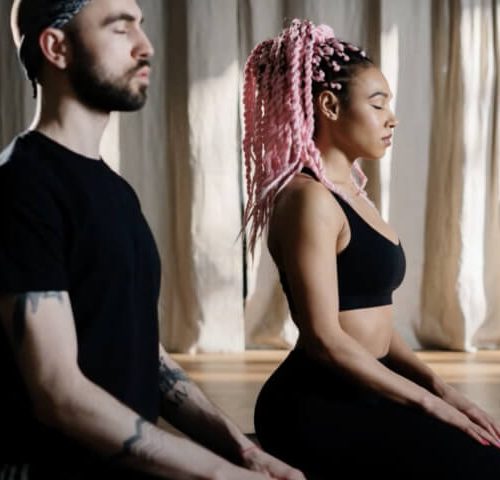 This 8-week Mindfulness Based Stress Reduction (MBSR) LIVE online training will allow you to build resilience to stress and start your own regular mindfulness practice. You will learn how to integrate mindfulness into all areas of your life. On this page you will discover what you will learn on this course, as well as upcoming dates and prices.
DISCOUNTS AVAILABLE TO SUIT YOUR BUDGET – SEE BELOW FOR DETAILS.
Starting Friday 22 April
8 week course. 9.30am-12.00 GMT (UK, Ireland) / 10.30-13.00 CET (Netherlands) / 7pm-9.30pm (Sydney)
Book your place
€250.00
Mindfulness Based Stress Reduction (MBSR) Online Course
Mindfulness Based Stress Reduction (MBSR) is a specialised mindfulness training programme developed by Jon Kabat-Zinn, PhD at the University of Massachusetts back in 1979.  MBSR is the most widely recognised mindfulness training across the globe.  The course follows a very specific structure and format and requires a high level of involvement from its participants.  This includes 8 x 2.5 hour weekly sessions; a 6 hour online retreat and daily home practice for approximately from 30-45 minutes a day.
Why MBSR?
So why study an 8-week MBSR online training? MBSR is a widely researched mindfulness course and the training material has been developed by experts in the field of mindfulness over many years.  MBSR has been found to be particularly beneficial for people who are suffering from stress, anxiety and depression.
Below you will find a summary of the benefits experienced by MBSR course participants.
The benefits of an 8-week MBSR course include:
Lasting decreases in physical and psychological symptoms
An increased ability to relax
Reductions in pain levels and an enhanced ability to cope with chronic pain
Greater energy and enthusiasm for life
Improved self-esteem
An ability to cope more effectively with both short-term and long-term stressful situations
Starting Friday 22 April
8 week course. 9.30am-12.00 GMT (UK, Ireland) / 10.30-13.00 CET (Netherlands) / 7pm-9.30pm (Sydney)
Book your place
€250.00
MBSR course outline:
This MBSR training has been developed for easy live online access. The course is available alongside our other Mindfulness Courses and facilitated by very experienced Mindfulness Trainers.
As well as live online practical sessions you will receive support material to guide you through this MBSR course.  The fee for the training includes:
8 x 2.5 hour interactive, experiential and practical classes held LIVE ONLINE via Zoom
A 6-hour online mindfulness retreat
Guided meditation recordings to support home practice
Weekly workbooks with course notes and home practice exercises
Access to our exclusive online learning platform
FREE EXTRA: 30-day Self-compassion Email Course
Course dates and times
Time: 9.30am-12.00 noon BST (UK & Ireland) / 10.30-13.00 CEST (Netherlands) – *unless otherwise stated
Orientation: Choose a free Introduction to MBSR session from our Agenda, which gives you an overview of the course
Week 1: Friday 22 April
Week 2: Friday 29 April
Week 3: Friday 6 May
Week 4: Friday 13 May
Week 5: Friday 20 May
Week 6: Friday 27 May
Week 6: Saturday 28 May – *ALL DAY RETREAT 9AM-3PM UK BST / 10AM-4PM CEST
Week 7: Friday 3 June
Week 8: Friday 10 June
What if I can't make a class?
If you are unable to attend a date it is still possible to join the course.  You will receive a weekly course workbook with information about the themes covered in the session as well as access to guided meditations in the learning portal.
Questions about the course?
If you have further questions about the course you can email our team here.  You might also like to join one of our FREE Introduction to MBSR sessions.  You can find the dates of the next FREE MBSR Introduction sessions here. During the online session you will hear all about what the course entails, get to try some mindfulness practices, as well as an opportunity to ask questions about the 8-week course.
Week 1
Introduction to Mindfulness

Week 2
Ways of seeing (perception)

Week 3
Mindfulness of the breath & the body in movement

Week 4
Learning about patterns of reactivity to stress

Week 5
Coping with stress: Using mindfulness to respond rather than react

Week 6
Stressful communications & interpersonal mindfulness

Week 7
Lifestyle Choices - How can I best take care of myself?

Week 8
Keeping your mindfulness practice alive

You will learn:
Through the weekly group sessions, led by Bernadette, and daily personal home practice, participants come to recognise their own emotional states and respond with greater awareness, kindness and intention. Bernadette supports each individual to develop their own practice from a diverse range of mindfulness-based tools.  These tools include formal guided meditation practices like sitting meditation and the body scan, as well as daily informal awareness practices aimed at accessing the present moment through the regular activities of daily life such as mindful eating or mindful washing up.
If you have further questions about the course you can email our team here.
Price
The investment for this course is €250.
Special Discounts
To reflect the challenging times we are living in there are two discount offerings. Please choose the one that best suits your financial situation:
25% discount use code MBSR25
50% discount use code MBSR50
If you have further questions about the course you can email our team here.
Starting Friday 22 April
8 week course. 9.30am-12.00 GMT (UK, Ireland) / 10.30-13.00 CET (Netherlands) / 7pm-9.30pm (Sydney)
Book your place
€250.00
Your trainer for this course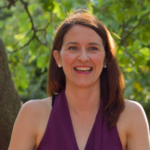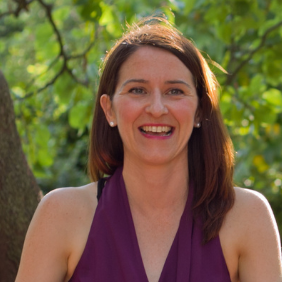 Bernadette Keogh, Mindfulness Trainer
Bernadette Keogh is a mindfulness trainer and nutritional therapist. She has been teaching mindfulness since 2013 and been a mindfulness practitioner for over 25 years. She has taught over 2,000 people in in-person and online workshops, courses and events. She has also completed mindfulness teacher training (for MBSR) with Bangor University and is a Qualified MB-EAT Mindful Eating Instructor. She is a Registered Nutritional Therapist and is a member of BANT (the British Association for Nutritional Therapists).
Testimonials
"I thoroughly enjoyed the MBSR mindfulness course and thought it was really excellent! It was such a great learning process and I feel like I really have found a tool which will help in life! You did such a great job at blending the teaching and the practice and it was a lovely group too! So, thank you so much!"
Hannah, Lawyer, Den Haag NL
It was all very well organised, the sessions and the follow up emails each week. The group was really lovely, engaging and open to sharing as was the teacher. Loved every minute.
Claire, UK – 8-week MBSR Participant
In Bernadette's course you will find a welcoming space where learning the basics of mindfulness and sharing your journey's meditation. Bernadette is very competent and a lovely person. I will miss her course.
Participant, 8-week MBSR Course