How I became a Qualified Mindful Eating Instructor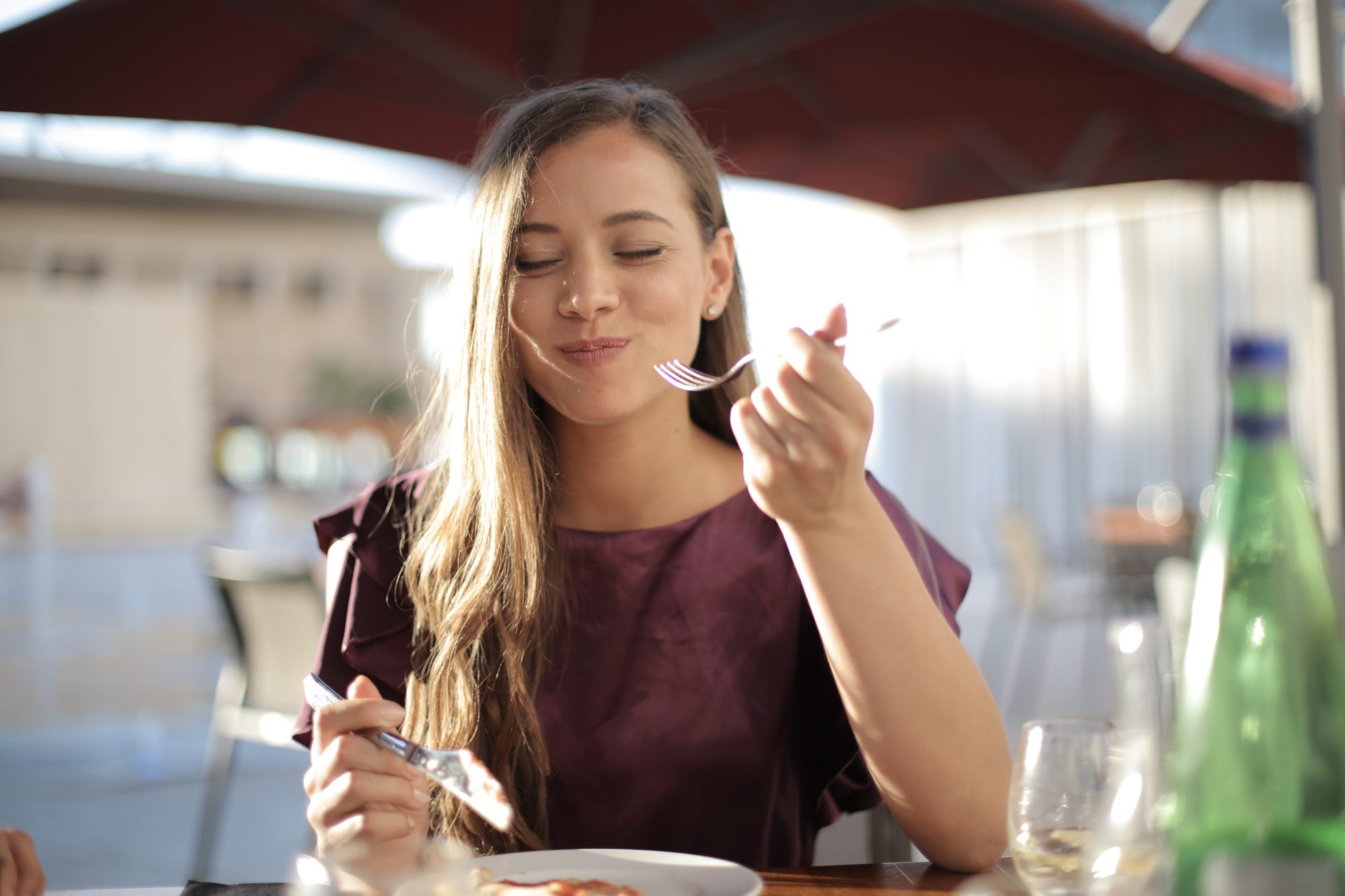 Many people have asked me about how I became a Mindful Eating instructor, so I am writing this blog post to share my journey to become a Qualified MB-EAT Instructor.  I will also talk about additional training and courses that I took that raised my skills and tools for working with Mindful Eating clients.
Embarking on a Health & Wellbeing Career
After working for 15 years in digital marketing and commercial partnership development I was ready for a new challenge and wanted to  change career to focus on health and wellbeing.  So in 2010 I started a Nutritional Therapy Diploma with CNM (The College of Naturopathic Medicine) – and it changed my life.  On graduating in 2013, I also decided that I wanted to share my mindfulness practice with as many people as possible.  Having been a mindfulness practitioner for over 20 years, at that time, I had gained so many benefits from the practice, I wanted to empower others to start their own personal practice.
So, in 2013 I embarked on my new career as a Nutritional Therapist and a Mindfulness Trainer.  I worked with individual nutrition clients, developed and delivered corporate wellbeing workshops and group mindfulness courses.  I grew a steady business and really enjoyed my work.
In the meantime I moved to The Netherlands in 2015 – where my Nutrition qualification was fully recognised and accredited and I continued with my business from my new home in The Hague.
COVID & Moving My Business Online
Then, COVID hit in 2020 and the world went into lockdown.  For some businesses this was detrimental, but fortunately for me I was easily able to transition my business online, and actually my business flourished more than ever as people started to focus more on their physical and mental health.  The world suddenly opened up for me with clients from the USA, Central and South Amercia, Canada, South Africa and across Europe.
Enhancing my Mindfulness Skills with MBSR Teacher Training
I was not the only business that transitioned online.  To my great excitement Bangor University's world renound MBSR (Mindfulness Based Stress Reduction) teacher training programme became available online.  So I took the opportunity to deepen and extend my mindfulness teaching skills, studying their Level 2 MBSR teacher training pathway.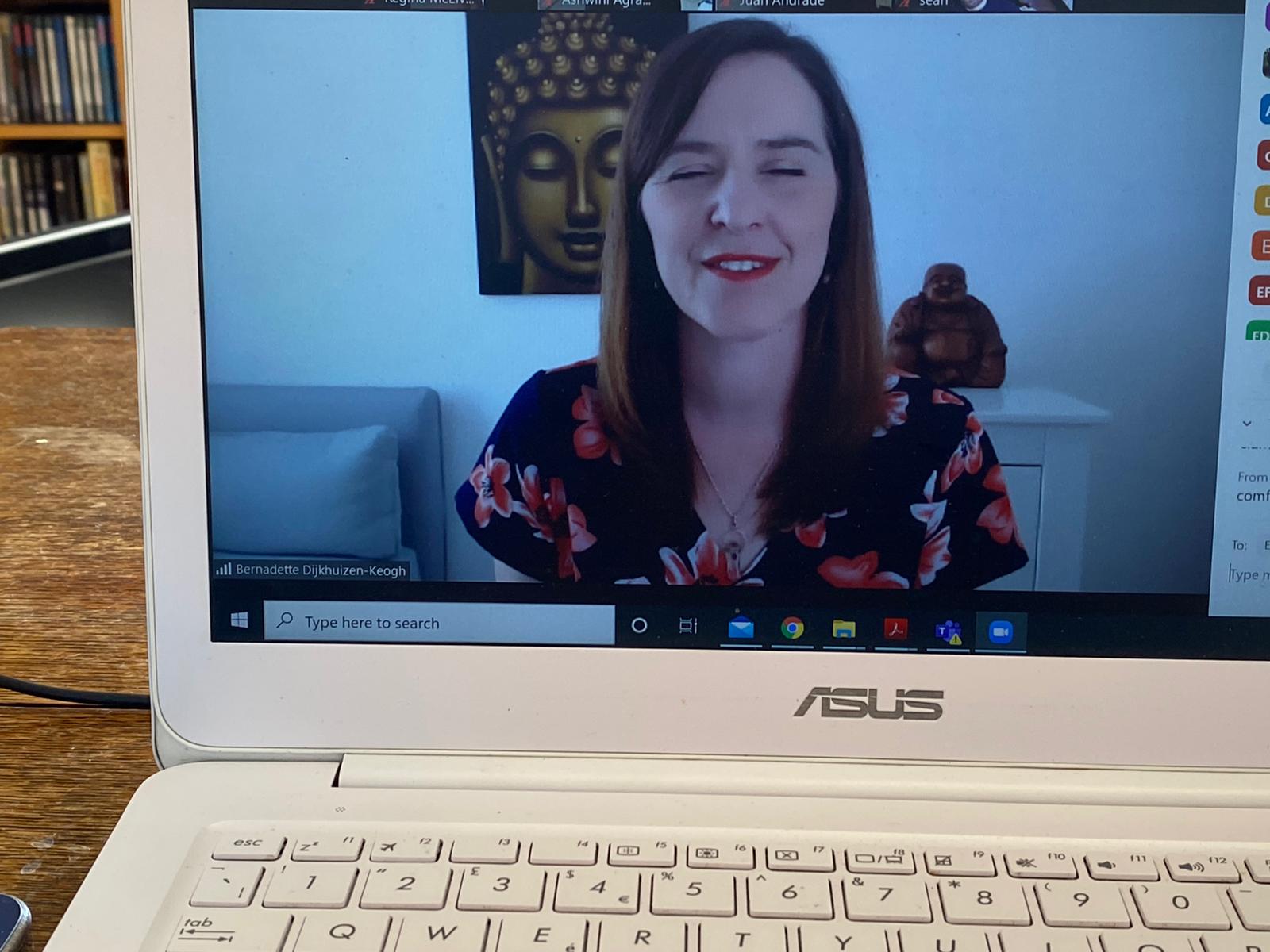 MB-EAT Teacher Training Programme
Around this time several of my regular mindfulness participants asked me to develop a Mindful Eating course.  This was something that I was very interested to do, but felt I wanted a formal qualification to do so and also to take advantage of an evidence based long standing programme.  That is when I signed up to the MB-EAT training developed by Jean Kristeller and Andrea Lieberstein through the Mindful Eating Training Institute (METI) based in the US.  Again, the beauty of online training!
The 3-month programme was available both live online and in pre-recorded sessions, for those who were unable to make the time of the live sessions.  What I loved about this course was that it is experiential.  We experienced the mindful eating practices as participants first.  Then we were paired with a "practice partner" from our class, who we met with once or twice a week to practice leading the mindful eating meditations ourselves.
The Benefits of the METI MB-EAT Teacher Training
The impact of this training on all areas of my life was transformative:
Firstly it transformed my own relationship with food
It transformed how I worked with my nutritional therapy clients
It transformed the language I use in my nutrition workshops for corporate clients
It transformed my mindfulness business, as I added a new string to my bow
And now provides me with a steady income working with interesting clients from all over the world who have a desire to heal their relationship with food
Teaching MB-EAT in Groups and with Individual Clients
Even before I finished my training and gained my qualification, I was developing my own 7-week mindful eating programme, based on the fantastic material we gained access to through MB-EAT; as well as additional material of my own.  As soon as I qualified,  I started running group programmes online and recouped the investment of the course within a few months.  This year I transitioned my 7-week Mindful Eating Programme to working with individual clients only.  I found that I have clients from all over the world, and finding a convenient time for a group course across many time zones proved challenging.
Client Testimonials from my 7-week Mindful Eating Programme
Don't just take my word for how transformative mindful eating can be, visit the bottom of the following two pages to hear about my client experiences:
Testimonials from Mindful Eating Group Training
Testimonials from Mindful Eating Individual Coaching
Thinking about becoming a Qualified MB-EAT Instructor?
If you are thinking about studying MB-EAT, I can highly recommend the METI.  You should definitely have your own regular mindfulness practice for at least 6-months before participating.  And further to this I would suggest that you do an 8-week MBSR course as a participant, as this will really give you a foundation in the principles of mindfulness, which are so integral for the MB-EAT programme.
If you are interested in training to be a Mindful Eating instructor and have further questions, drop me a mail and I would be delighted to share more of my experiences.
If you are interested in Mindful Eating private coaching visit here.
Client Testimonial
"Bernadette is super knowledgeable and experienced in mindfulness, nutrition, and healing relationships with food, and is a great educator and course facilitator. Her passion for her work is evident in her attitude, effort and the way she leads the course. She is great at explaining concepts, leading meditations, and facilitating group feedback and participation, making it an overall amazing experience for participants.
It was my first time ever learning about mindfulness with eating and food, and I can see small differences that are building on each other in my eating, choices, and attitude towards eating and food. My biggest take away I think was changing my labels on food from "good" and "bad" food, to "whole/nourishing" and "play" food."
Carrie, USA